From some angles, Haynes & Garthwaite's new Alpha Phi sorority house on North Park Street recalls the old Sigma Phi Epsilon house on Webster Avenue: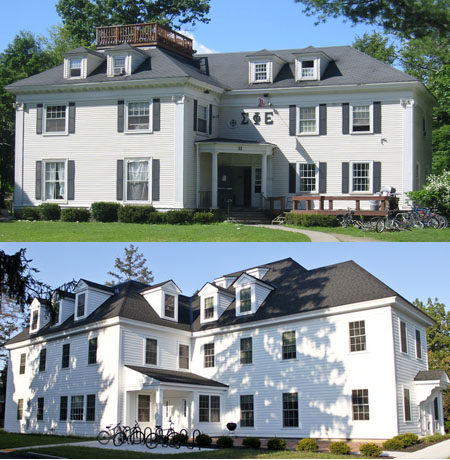 Top: Sigma Phi Epsilon (1896 and 1963, demolished 2010). Bottom: Alpha Phi (2012), photo by Tracy Wang courtesy of The Dartmouth.
More photos are available at
Trumbull-Nelson
.
In other North Park news, The Dartmouth reports that the school is planning to create an LGBT house on the street. The Valley News writes:
Hanover — Dartmouth College will move forward with plans to open a lesbian, gay, bisexual and transgender student residence in 2014, a project that has been the longtime goal of a college advisor who has been working on the plan for more than a dozen years.
——
[Update 11.04.2012: T-N photos link and VN quote added.]