The Board has opened a new front in the struggle to give the Black Family Visual Arts Center an informal name:
Two weekends ago, we celebrated the opening of the Black Family Visual Arts Center (BVAC). Not only is it a spectacular building, but its presence has also transformed the plaza between the BVAC and the Hop into one of the most beautiful and inviting spots on campus, enhanced by Ellsworth Kelly's "Dartmouth Panels" on the brick façade of the Hop. The arts district formed by the Hop, the Hood and the BVAC creates a distinctive magnet for our campus and provides a splendid backdrop for the Year of the Arts at Dartmouth.1Board Chairman Stephen F. Mandel, letter to alumni (26 September 2012).
Whether called the Black Arts Center or the BVAC, the building is remarkable. The dedication was noted in the Buildings & Grounds blog of the Chronicle, and the first review of the building has appeared, in Hyperallergic. Unique photos of architectural models for the building are posted at Dartbeat. Donald Kreis has a perceptive review on Vermont Public Radio.
The accompanying plaza, built by specialized contractor Landshapes, is visible in a number of photos from the school's Flickr photostream. There are also photos of the installation of Louise Joséphine Bourgeois' giant metal spider sculpture in the plaza.
It is difficult to believe that Dartmouth was content to maintain a parking lot on this site for the last several decades: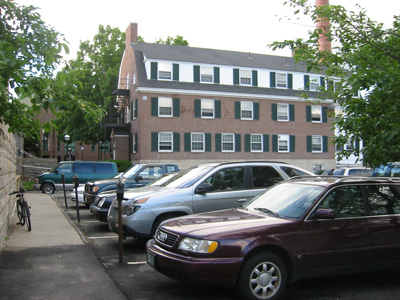 The new arts plaza is one of those places that changes its site radically and yet seems inevitable.
——-
[Update 11.04.2012: Kreis review link added.]
——-
| | | |
| --- | --- | --- |
| 1. | ↑ | Board Chairman Stephen F. Mandel, letter to alumni (26 September 2012). |