In the fabulous Alumni Magazine archives one sometimes comes across photos and descriptions of "the Old Stage Coach."[1. "The Old Stage Coach," Dartmouth Alumni Magazine (December 1929), 96.]
The 1852 Concord Coach was used to haul people to and from train stations at Norwich (Lewiston) and White River Junction and to take fraternity groups to their banquets at inns in neighboring towns and so on.[2. Frederick H. Burleigh, "Reminiscences of an Old Dartmouth Stage Coach," Dartmouth Alumni Magazine (December 1929), 110-111.]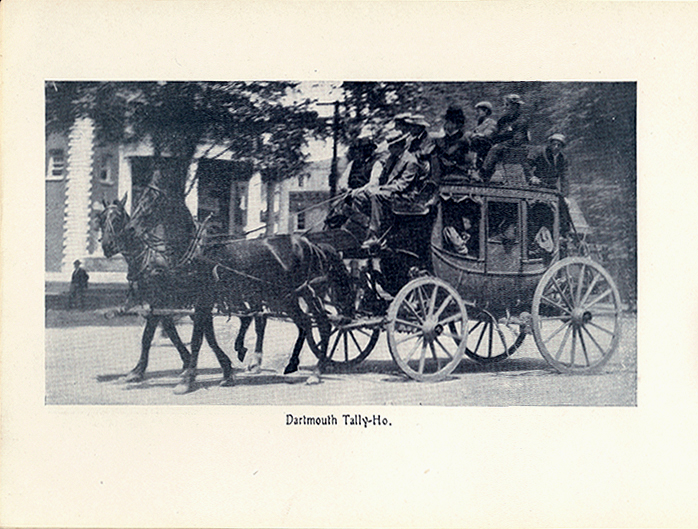 As the coach became more old-fashioned, its use became more ceremonial, and it was used to give athletic teams a notable sendoff or arrival. The Archives has an excellent photo of the coach in front of the Wheelock Hotel (pre-Inn) in 1897, carrying the baseball team, and a faded photo of the coach carrying Casque & Gauntlet members (and dates?) in 1898, possibly at a baseball game.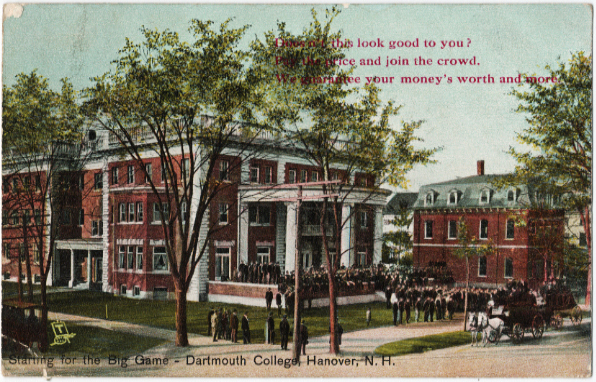 The coach appears behind a wagon in this ca. 1901-1912 view.
The coach's last use was about 1912, and in 1929, not long after being spared destruction in a student bonfire, it was placed in the college museum in Wilson Hall.[3. Burleigh.] I do not remember the coach from the early 1990s, and it does not seem like the sort of thing the museum would keep around, especially after Wilson became overcrowded or the Hood Museum was built.
And yet the Hood did not get rid of the coach until the fall of 2012! The deaccession pdf explains that it went to a good home:
Transferred to Abbot-Downing Historical Society, Hopkinton, NH, which is dedicated to preserving the history of the Abbot and Downing companies and the Concord Coach, which they manufactured.
The society features the spruced-up coach on its home page.
------