First, the Brown game takes place today. It will be the last game played before Jens Larson's 1923 West Stands at Memorial Field. The steel-framed concrete seating terraces will be demolished and removed from behind the brick facade, which will remain, beginning this week.
Second, The Dartmouth reports that:
The College also plans to rebuild the Ledyard Clubhouse. The clubhouse, which used to house a few students, was vacated last fall following water intrusion and mold buildup. Hogarty said the College will eliminate the residential component when Ledyard is rebuilt.
"Rebuilt" means "replaced," of course. This news has also been a long time coming. Students have been designing replacements for years — the original 1930 building was designed by a student, in fact — and the Milone & Macbroom Riverfront Master Plan showed a replacement building in the long term. It is worth mentioning that the Ledyard Monument is not in its original location and so probably needn't be kept where it is.

Interior of Ledyard looking north in 2005
Third, the focus of the article in The Dartmouth is the news that the Moosilauke Ravine Lodge feasibility study recommends demolishing and replacing the Lodge. Maclay Architects, which conducted the study, includes a drawing of the main (west) facade of a possible Ravine Lodge replacement: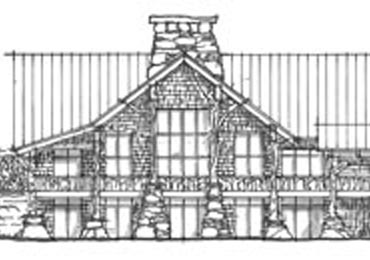 Detail of Maclay drawing of west facade of new Ravine Lodge
The drawing shows a building that seems both grander and more rustic, or more self-consciously rustic, than the 1938 Lodge. It lacks the extremely broad gable of the old lodge, but it has a signature form of its own. Maclay has extensive timber-framing experience, and with big logs scarce these days, this lodge appears to be a timber-framed building clad in shingles.
The Board of Trustees could decide whether to demolish the old building in the spring.