The college has hired Sasaki Associates1 If this complex is built, the college should get another firm to handle the design. Sasaki's Modernist college residential buildings look nice enough (see Regis College and the N.C. State project page and aerial) but they do not belong on this site. to come up with a conceptual design for a massive dormitory complex to be shoehorned between the Wilder Lab and Shattuck Observatory, on the edge of College Park (College Park Conceptual Design page, Dartmouth News article, Valley News article ).
The design brief calls for a capacity of 750 beds. That is more than twice the size of the East Wheelock Cluster (now East Wheelock House), including the later McCulloch Hall:

| | | |
| --- | --- | --- |
| Andres Hall | | 84 beds |
| McCulloch Hall | | 78 beds |
| Morton Hall | | 84 beds |
| Zimmerman Hall | | 86 beds2 East Wheelock House site. |
| Total | | 336 beds |
One of the goals of the conceptual design process is to "respect the ridge." Keeping the buildings low, especially at the upper end of the site, will require the college to use all of the buildable land within the entire study area. This complex is likely to be a Byker Wall (Wikipedia, Google aerial).
(To truly respect the ridge, of course, the college would have to stack all of this dormitory space into a tower sited behind Richardson Hall. That idea was raised and dropped in the 1960s.3 As strange as a dormitory tower sounds in small-town New England, it was not too much for Bowdoin College (Google Street View).)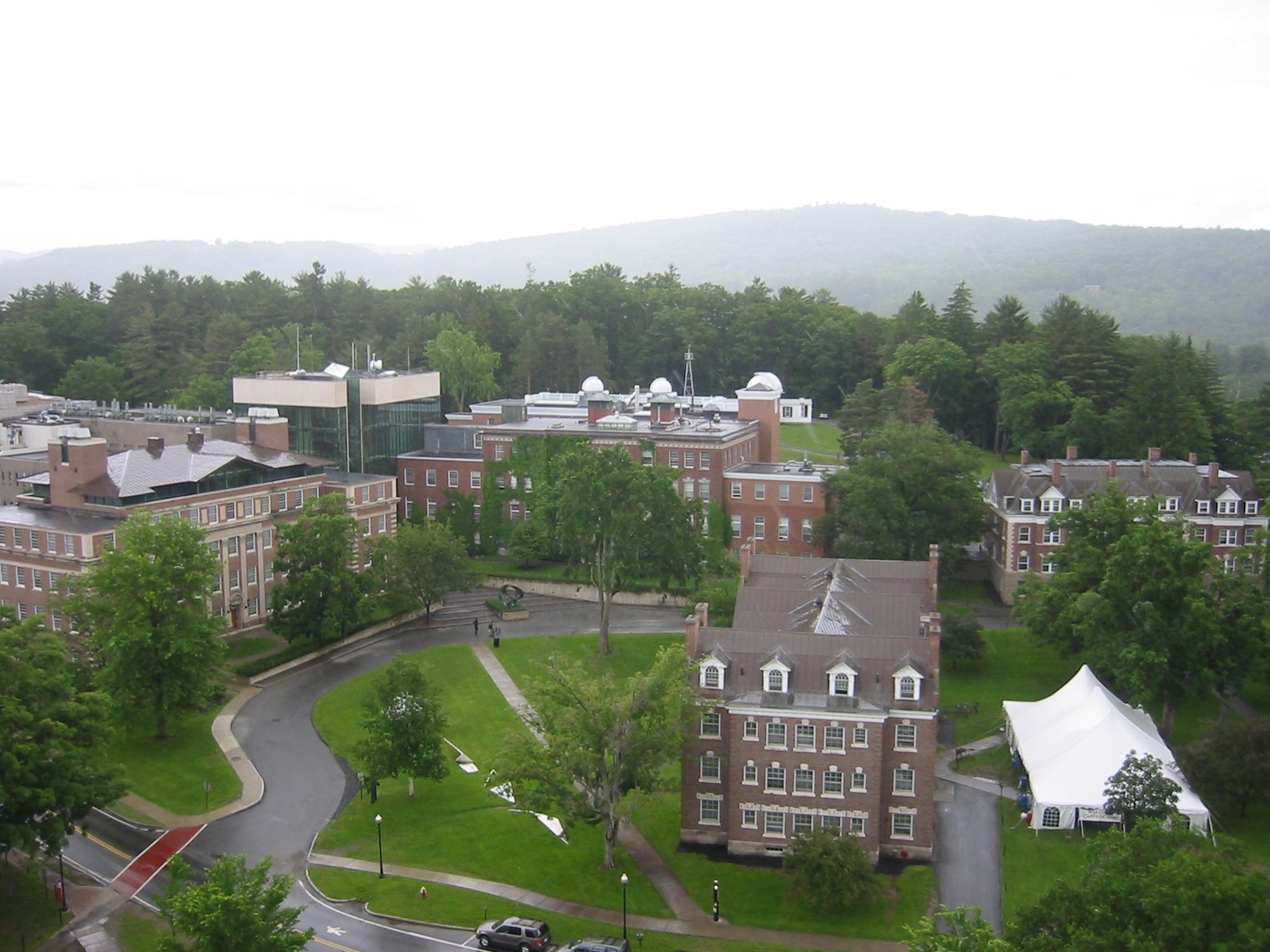 College Park has been encroached upon for decades and is significantly smaller now than when it was created. The park could be a necessary building site some day, but the college is certainly not there yet. (And construction costs will be higher than average here because of the limits on access, the necessity of protecting trees and historic buildings, and the fact that the whole site is made up of ledges of bedrock: there will be a lot of dynamite required.)
This site was chosen because it is the only one that can hold all of the 750 beds the college believes to be necessary. The college could stand to think more creatively — there are plenty of sites around campus where new beds could be built. There is space for hundreds of beds behind Mass Row and in front of Davis Varsity House, both sites that have been reserved for residential use for years. There is a site behind Fahey/McLane. Closer to College Park, Andres could be extended to the west. Ripley and Smith could be extended to the west and east. Richardson Hall could stand to have a rear ell added, incorporating an arched gateway to the park.
While a small building or addition at the bottom end of the College Park site would be a fine idea, a double-East Wheelock Cluster simply is not appropriate here. One would love to see the campus-wide master planning4 Recently, Beyer Blinder Belle completed a master plan for the campus and were brought back to create a framework plan for the west end of Tuck Mall. Sasaki Associates were hired to plan out the House Communities system and were brought back to design two temporary social buildings as part of that system. Some unreleased plan presumably shows College Park as the last big unused site on campus. Could it be that the planners are now rejecting the Mass Row and Davis Varsity sites because those sites are already reserved for the various permanent, on-campus professors' dwellings and social halls that the House Communities will need to be fully realized? That plan would be an interesting one to see. that led to the conclusion that a great wall of buildings on a cramped site of such sensitivity and meaning was the best move to make.
———————
| | | |
| --- | --- | --- |
| 1. | ↑ | If this complex is built, the college should get another firm to handle the design. Sasaki's Modernist college residential buildings look nice enough (see Regis College and the N.C. State project page and aerial) but they do not belong on this site. |
| 2. | ↑ | East Wheelock House site. |
| 3. | ↑ | As strange as a dormitory tower sounds in small-town New England, it was not too much for Bowdoin College (Google Street View). |
| 4. | ↑ | Recently, Beyer Blinder Belle completed a master plan for the campus and were brought back to create a framework plan for the west end of Tuck Mall. Sasaki Associates were hired to plan out the House Communities system and were brought back to design two temporary social buildings as part of that system. Some unreleased plan presumably shows College Park as the last big unused site on campus. Could it be that the planners are now rejecting the Mass Row and Davis Varsity sites because those sites are already reserved for the various permanent, on-campus professors' dwellings and social halls that the House Communities will need to be fully realized? That plan would be an interesting one to see. |