The Valley News reports that the college is selling Eleazar Wheelock's house to the Eleazar Wheelock Society, a "pan-denominational resource promoting a constructive role for faith in learning environments like Dartmouth," as well as at Dartmouth itself. The group will remodel the building to house 24 students. The college only acquired the house a few years ago, and it seems to be imposing a private historic preservation covenant in this sale. The renovation that turned the house into the Howe Library around 1900 was designed by Charles A. Rich, while the ominous/cute brick stacks addition is later.
The "Mansion House" for the college president was built with funds from London evangelical John Thornton, so its acquisition by this group seems particularly appropriate. The group was founded by alumni in 2008 and aims to establish "a reproducible model that can be duplicated on college and university campuses elsewhere." It admires Wheelock "because of his commitment to the biblical worldview."
In thanking Joseph Asch for his kind mention of this site on Dartblog, I am compelled to note Princeton's preservation of an early president's house1 that is both older than Dartmouth's and still in its original location. A 1764 engraving by Dawkins (reproduced in a Princeton news article) shows the Maclean House in front and to the right of Nassau Hall. The two buildings are still standing and appear in this recent Bing aerial.
Putting the president's house alongside the lawn that lay between the street and the college proper was a standard practice. This image shows Dartmouth's president's house in its original location at the righthand end of Dartmouth Row.2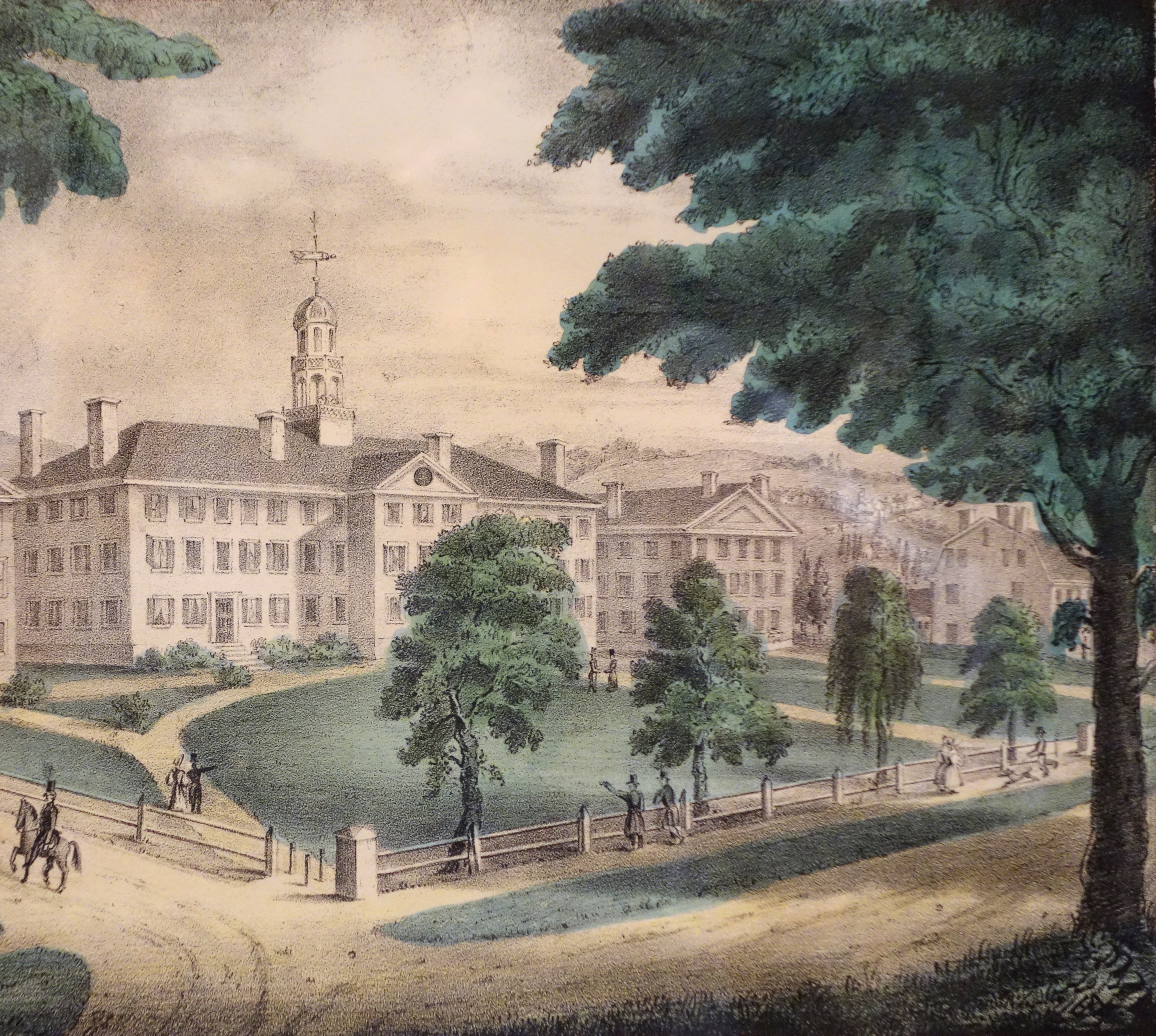 Detail of ca. 1834 Currier engraving of Dartmouth Row showing President's House at far right. Image reversed from erroneous original disposition.
The relation of the president's house to the college building made early Dartmouth look very much like early Princeton.3
[Update 11.13.2015: Final three paragraphs added.]
——-
The house is not that of Princeton's founding president, if the school had such a person: the College of New Jersey was established in Elizabeth and moved to Newark before it settled in Princeton. ↩
Although Wheelock died before Dartmouth Hall was built, he anticipated the construction of a college on the hill and likely had the site in mind when he built his own house. ↩
Early views of the two schools are so similar, in fact, that Dartmouth once used the Dawkins engraving of Nassau Hall as the cover of its annual report in error; confirmation will be posted as it is found. ↩