The BBB/MVVA master plan has not been presented to the public, but one small illustration from it has been published on the Web. Reading much into this one image is difficult. The image emphasizes a system of green circulation armatures; although it depicts several new buildings, it does not distinguish them from existing buildings.
Nevertheless some fairly significant proposals for new construction can be discerned. One of the most intriguing involves Tuck Drive, which curves gently uphill from the left: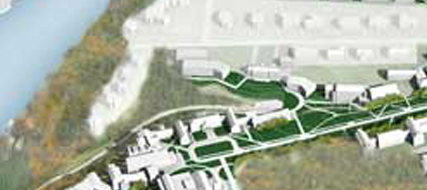 Tuck Drive is simply cut off in the image; it dead-ends behind Buchanan instead of emerging from Webster's Vale to join with Tuck Mall. (Here is a recent Bing aerial of the site.) Perhaps the blocking of Tuck Drive would not be much of a change. The upper end was already bollarded by 2010, a change presumably made when Fahey and McLane were built.
Where does the master plan have this Tuck Mall driveway leading, then? It goes to a parking lot. The broad, curving sidewalk and new lawn behind Buchanan appear to be level, bridging over the Vale.
Whether it is a small surface lot or an underground garage, this would not be an all-school parking area; it would serve the Tuck School. Indeed the green bridge with its broad path appear to link Buchanan to the current President's House and the two or three new buildings shown nearby. It looks as if the designers are reviving the idea that the President's House, whose address is technically 1 Tuck Drive, be made a part of the Tuck School. If an appropriate replacement for the executive mansion could be found, it would make a lot of sense.
———–
[Update 04.16.2015: Typo in post title corrected.]