I. Background.
The hope is that if or when Dartmouth builds a new heat plant in Dewey Field, the prominent field north of the Life Sciences Center, it erects a building of high quality.
More important than the architecture, however, is the siting: the building should be located in such a way that it does not impede the construction of other buildings in the future. This is the second time this idea has been flogged here.
Dartmouth needs to decide upon the potential building sites for the whole area between the LSC and the 6th hole of the golf course. It should know ahead of time whether this will be a district of brown metal sheds, academic buildings, office spaces, or even general-market apartment buildings, and how these new buildings will be organized, even if the first one is not built until 2050.
Google Street Views of the overall parking lot (up from the bottom, down from the Medical School) show the tremendous amount of space available to future builders with incomplete ideas. The sort-of road that lines the western edge of the site will form a crucial axis, as is made apparent in the set of excellent views to the north from under the Kellogg bridge and to the south (uphill).
II. Proposal.
The idea of placing academic buildings or dormitories north of the LSC should be dismissed out of hand. This site is simply too far away from the center of campus. The fact that the LSC forms a great rampart walling off the outside world suggests that the college agrees: what lies beyond the pale is not a part of the campus.
But there will be buildings built here, and there are some functions that would be appropriate for the college to develop here.
Present zoning aside, this could be a great place for commercial rental buildings with integrated parking garages. The Development Office could be here. Look to Centerra; look to the space the college is renting in downtown Hanover at the moment. This site is no farther from the Green than is Ledyard Bridge, and walking distance is obviously of little importance to non-student functions. Retail and residential uses would be essential to add life to the district when it is finally built out, but they might be too much to hope for.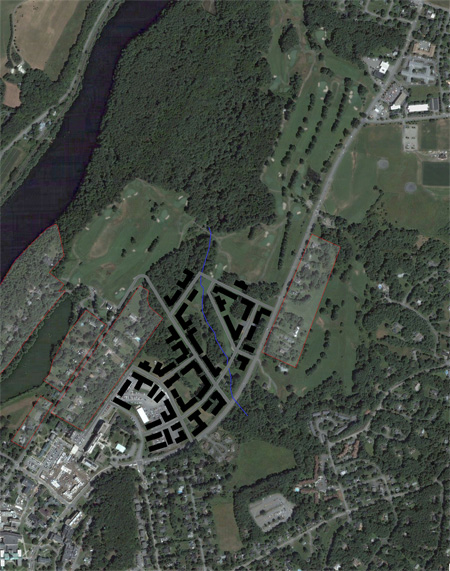 Sketch of possible "North Block" development on Dewey Field and golf course.
What about the golf course? Add a couple of holes to the north or east; build a new clubhouse at the north end of this commercial project, or in the Reservoir Road area as a companion to the Rugby Club.
[02.25.2012 update: first paragraph reworded slightly.]