The BBB West End Master Plan (super image from BBB site; see also the Campus Services project page, written by BBB) turns out to be more than a schematic design. The meandering suburban business-park road is going to be built:
Another change will be the removal of Engineering Drive, which runs from West Wheelock Street to the Cummings lot. A new roadway, called West Access Road, will be constructed to provide access to the parking garage and Thayer loading facility as well as limited access to the West End Circle. A now-closed portion of Old Tuck Drive, which originates just above the swim docks and the Ledyard parking lot, will be reopened and will connect the roadway to Tuck Mall, pending town approval.11. Susan J. Boutwell, "Integrating Engineering, Computer Science, Entrepreneurship," Dartmouth News (28 March 2018).
The project page for the Thayer/CS building provides more detail: "Engineering Drive will close, and a new access road will be constructed specifically to provide access to the parking garage and Thayer loading docks. Old Tuck Drive will be restored and reopened to support one-way traffic heading from west to east."
Maybe the site conditions (steep slopes, existing buildings) require the endearingly-named West Access Road to look the way it does. After all, Tuck Drive22. Please, let's stop calling it Old Tuck Drive. The word "Old" seems to have been added to the name of Tuck Drive to distinguish the short branch of the road that was eliminated by Fahey-McLane. That was a dozen years ago. There is no need to keep using the word. is a curving, naturalistic auto road. Yet one hopes that the new road will respect urban principles by reinforcing campus spaces.
One also hopes that the West Access Road will be reconnected to Tuck Mall once construction of the building is completed: that would seem to be the reason for the two-level pedestrian bridge that will join the building to the McLean ESC.
From the Dartmouth News article: "Construction is expected to start early next year on a three-level underground parking and loading facility, which will sit below the four-floor education portion of the building." In the map that accompanies the article, the entrance to that subterranean lair underground garage appears just off the southwest corner of the new building. Last fall, the project page included a view of the building's south facade from which is taken this detail showing the intriguing, grottolike entrance: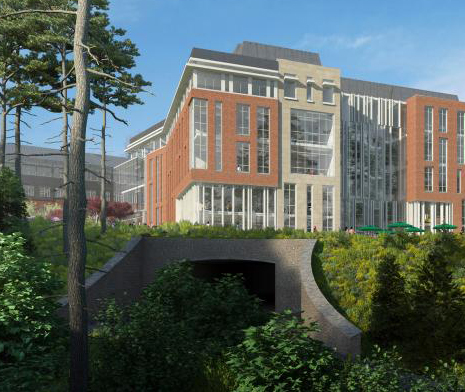 | | | |
| --- | --- | --- |
| 1. | ↑ | 1. Susan J. Boutwell, "Integrating Engineering, Computer Science, Entrepreneurship," Dartmouth News (28 March 2018). |
| 2. | ↑ | 2. Please, let's stop calling it Old Tuck Drive. The word "Old" seems to have been added to the name of Tuck Drive to distinguish the short branch of the road that was eliminated by Fahey-McLane. That was a dozen years ago. There is no need to keep using the word. |