Albert Levy (Wikipedia) was a pioneering architectural photographer who produced about 36 albums of photos of modern American buildings during the 1870s.
The Art Institute of Chicago has 90 of Levy's images on line. Many are identified, but the one project from Lamb & Wheeler is listed as being on Madison Avenue, "possibly at E. 67th St."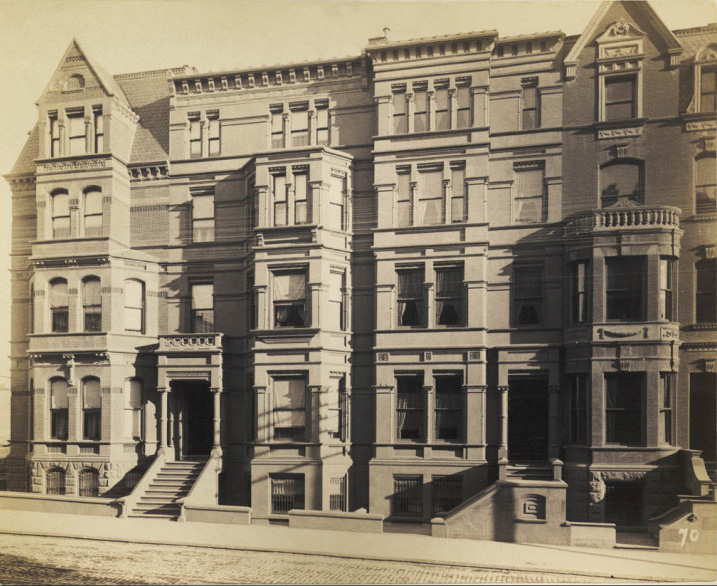 Detail from photo of Lamb & Wheeler project in Albert Levy's Architectural Photographic Series, Series 16, No. 70 (from the Art Institute of Chicago Historic Architecture & Landscape Image Collection).
The photo shows four houses facing Madison Avenue, with the house at the left on a corner: its entrance must be on the cross-street. The outer houses are faced with brick, the inner with stone.
The only houses so far attributed to Lamb & Wheeler that cannot be ruled out using other historic photos are the four houses at 821-827 Madison Avenue, on the southeast corner of 69th Street.
An 1898 atlas confirms that the outer two houses at 821-827 Madison were faced with brick and the inner two with stone: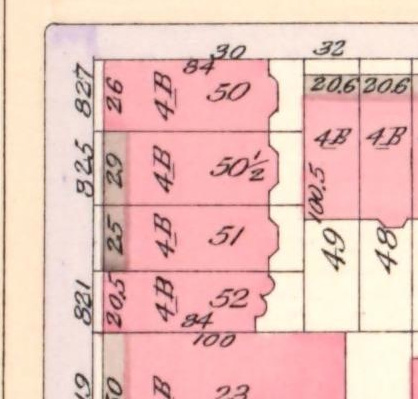 Detail from Bromley 1898-1899 atlas of New York (from NYPL).
But what about the projecting bays that are so prominent in the photo? The 1898 atlas does not depict them, but the 1916 atlas does: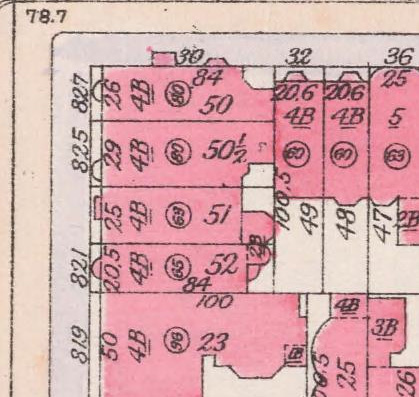 Detail from Bromley 1916 atlas of New York (from NYPL).
Although the bays on the two northern houses were not colored, they are still depicted, and each has the correct form, whether square or rounded/faceted. All but one of the bays shown on the atlas occupies the correct position within its facade. The listed widths of 26 feet, 29 feet, 25 feet, and 20 feet 5 inches also comport the relative widths of the facades as they appear in the photo.
Montgomery Schuyler wrote[1] of the corner house at 827 Madison Avenue that
the attic story has an appearance of extreme weakness imparted to it by the introduction of piers half a brick wide to carry the gables of the dormers.
The photo shows one dormer on the corner house, and it does show some "weakness," although its piers are not half a brick wide. Schuyler was probably referring to the dormers on the street facade, or he might have been exaggerating.
Here is the curious part: all four of these houses still exist. They have been so radically altered, however, that they no longer bear any resemblance to the houses in Albert Levy's photograph. The owners removed the remaining bays, stoops, and porticos and put up new facades during the 1920s:
821-827 Madison Avenue today (from Google Street View).
The rear extensions of the houses still look right:
Aerial view of 821-827 Madison Avenue (from Google Maps).
——————
Update 05.04.2013: Broken links to Art Institute images repaired.
——————
Montgomery Schuyler, "Recent Building in New York. — IV," American Architect and Building News 9:279 (30 April 1881), 207 (referring to a "corner house in Madison Avenue, somewhere above Seventieth Street" by "Wheeler & Lamb"). ↩