Google Street View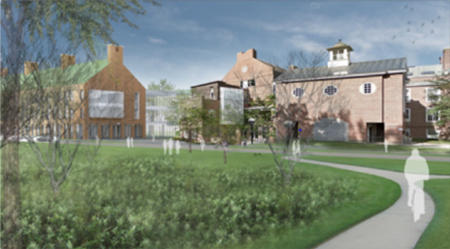 The new building is on the left. Image from Behind the Green newsletter.
The Thayer School of Engineering is planning to expand its faculty, students, and program. They are working closely with our Planning, Design & Construction Office to design a building that will accommodate this growth. The project is being developed in partnership with the Computer Science department and will therefore accommodate the relocation of that department, promoting interaction and collaboration between Thayer and CS, and with Tuck as well. The proposed new building is located south of the Maclean Engineering Sciences Center on the west end of the Dartmouth campus.
That from the Campus Services newsletter.1
The building takes its cues from the successful MacLean ESC next door. It looks as if it will line up directly with the portico of Tuck Hall.
The building also carries on the Thayer tradition of erecting additions rather than freestanding buildings. This is contrary to the two most recent master plans for this area. The road seems to be rerouted at least; will the connection to the River Cluster be eliminated completely?
And who will take over Sudikoff once CS leaves?
The newsletter also has a small rendering of the upcoming Indoor Practice Facility.
——————————