August 21st, 2012 | Published in all news, Alumni Gym, Berry Sports Center, Chase Field, Indoor Practice Facility, master planning, other projects
The Dartmouth has an interesting report on sports medicine at the college. First, it is intriguing that the sports medicine staffers fall under the direction of Health Services rather than the Athletic Department. Second, the Athletic Department is looking to have a training building built:
The Athletic Department and Health Services are currently considering the possibility of creating larger training rooms where the sports medicine staff can work together, which may be realized within the next two years, Galbraith said. This would ideally involve not just an expansion of the current training rooms inside Davis Varsity House, but the construction of an entirely new facility near Scully-Fahey Field — creating two "hubs" for the sports medicine program, Turco said.
Wouldn't this be a natural function to combine with the indoor practice facility? Is that why the Scully-Fahey area is proposed? If not, one good place to put the training rooms would be the site next to Davis Varsity House: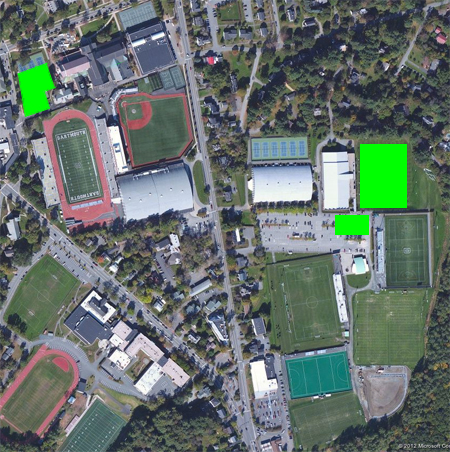 Potential sites for a training building: west of Davis Varsity House, and near Scully-Fahey (based on a Bing aerial).
——
[Update 09.08.2012: Even though the western (tennis court) site is right next to the gym, it is reserved by the 2002 master plan for academic uses because it is so close to the center of campus. That makes sense.]