The college has released some information about the units that will make up the new House system (Dartmouth Now, Dartmouth Now details, The Dartmouth).
Every student will be assigned to a House randomly. (One wonders whether each House will eventually be able to choose some or all of its members.) Most new students, all of them House members, will start out living in first-year dorms: Richardson Hall, Wheeler Hall, the Fayers (North, Middle, and South Fayerweather Halls), the River (French and Judge Halls), and the Choates (Bissell, Cohen, Little, and Brown Halls). Upperclass students, all House members, will not be required to live in-House.
The House names are obviously temporary. Of the six Houses, one carries on its existing name (East Wheelock), while two are named for their locations relative to the other Houses (South and West Houses). The remaining three Houses are named, arbitrarily, for the streets on which their associated faculty residences happen to be located — just temporarily located, one hopes. For example, the Gold Coast is associated with a house being built in another part of town, on Allen Street, and so the cluster is called Allen House. The same goes for Mass Row (School Street = "School House") and RipWoodSmith (North Park Street = "North Park House").
These are the houses. The two temporary buildings are described in numbers 2 and 5.
West House. Dorms: Fahey, McLane, Butterfield, and Russell Sage Halls. Faculty Residence: A house being built at 16 Webster Avenue, west of the President's House. "Community" space or "commons": Presumably the existing common area in the "hinge" in Fahey/McLane. Professor: Ryan Hickox.

Comment: This Faculty Residence makes as much sense as any of the new Residences does.

Allen House. Dorms: Gold Coast (Gile, Streeter, and Lord Halls). Faculty Residence: A house being built at 12 Allen Street, next to Panarchy. "Community" space: A temporary (lasting five to ten years) "two-level building with a snack bar and outdoor area between Gile and Hitchcock" (The D). Professor: Jane Hill.

Comment: One hopes that eventually this House's Professor lives in (a) Blunt, the perfect location, (b) a new house built behind the Gold Coast, where there are several great sites, or at worst (c) a new or existing house near the President's House on Webster Avenue.

School House. Dorms: Hitchcock Hall and Mass Row (North, Middle, and South Massachusetts Halls). Faculty Residence: A house being built on School Street, next to the Allen House Faculty Residence. "Community" space: The temporary building behind Hitchcock, to be shared with Allen House. Professor: Craig Sutton.

Comment: This House's Faculty Residence is about as distant as that of Allen House. Instead, South Fairbanks would make an ideal long-term Residence. North Fairbanks — or '53 Commons, if it is ever not required to serve the whole college — would make an excellent "community" space.

East Wheelock House. Dorms: East Wheelock Cluster (Andres, Morton, Zimmerman, and McCulloch Halls, and possibly Ledyard Apartments). Faculty Residence: Frost House/The White House (existing). "Community" space: Brace Commons (existing). House Professor: Sergi Elizalde.

Comment: Some new students will also live here instead of in a dedicated first-year dormitory.

North Park House. Dorms: RipWoodSmith (Ripley, Woodward and Smith Halls). Faculty Residence: An existing house at 3 ½ North Park Street, across from Triangle. Community space: A temporary "tent" building occuping the pair of tennis courts northwest of Davis Varsity House. It "is planned to be a 'sprung structure,' which generally consists of a metal arch frame with an all-weather membrane over it" (The D). Professor: Ryan Calsbeek.

Comment: These buildings are south of the College Park and closer to two other streets than they are to North Park Street. Eventually, the college-owned Heorot house would make an ideal "community" space or Faculty Residence.

South House Dorms: Topliff and New Hampshire Halls and the Lodge. Faculty Residence: A new house at 5 Sanborn Street. "Community" space: The "tent" by Davis, shared with North Park House. Professor: Kathryn Lively.

Comment: There is a surprising amount of space west of Alumni Gym for future housing or community space, and Hallgarten would make an excellent kernel of a Faculty Residence. One hopes that the inclusion of a dorm (the Lodge) and a Faculty Residence south of Lebanon Street does not pull this grouping permanently in that direction; after the Lodge is demolished, it really must be replaced with a commercial building.
Finally, the McLaughlin Cluster (Berry, Bildner, Rauner, Byrne II, Goldstein, and Thomas Halls), while not a House, is getting a Faculty Residence (an existing house at 2 Clement Road) and a House Professor, Dennis Washburn. This group will house LLCs (Living-Learning Communities) as well as some new students who will live here instead of in a dedicated first-year dormitory. Each resident will be a nonresident member of a House located elsewhere. The Faculty Residence is relatively close, and there are good sites nearby for a future faculty house, so perhaps McL. will become a House in its own right.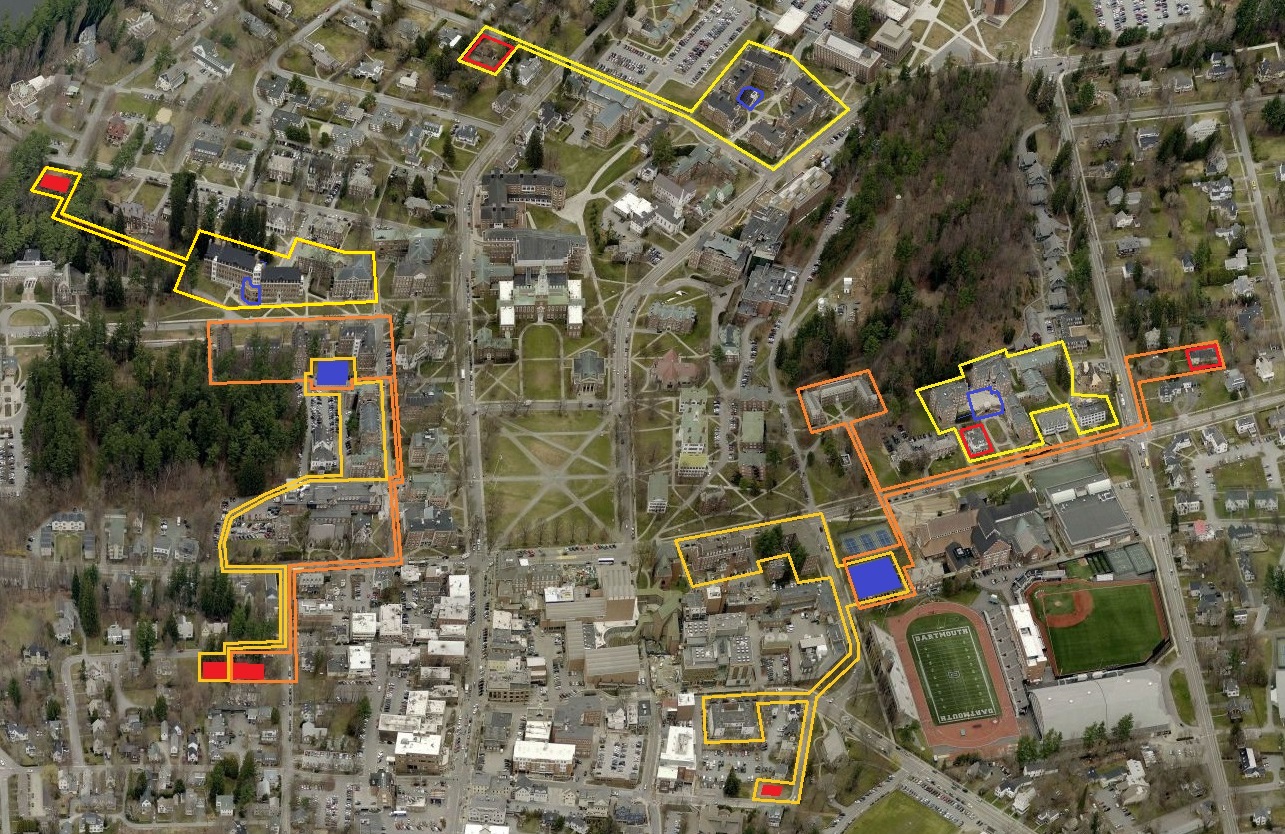 The six Houses plus one. "Community" spaces are in purple, Faculty Residences are in red, and boundaries are exaggerated to indicate (short-term?) disjointedness. Based on Bing oblique aerial.
——-
[Update 11.04.2015: Map added.]
[Update 11.04.2015: The Dartmouth has a story today stating that the construction and renovation of the faculty houses will cost about $4 million. That amount must be coming out of the $11.75 million approved for the erection of the House system as a whole back in March (post). The two temporary "commons" will probably take up much of the rest of the budget.]