November 7th, 2012 | Published in Academic Center, all news, master planning, May 2006 photos, Med. School
Bill Hemmel has a nice collection of recent aerial photos of the campus, including this one:
Dartmouth will demolish Gilman (at right, with white window frames) and Dana (the square building above it) to provide a site for the North Campus Academic Center.
At this stage in the design process, the siting of the Academic Center is the best and most interesting attribute of the building. Disobeying the grid that orients the rest of the medical school complex, the Academic Center will approximate the curve of College Street. Here is a very rough guess at the building's footprint: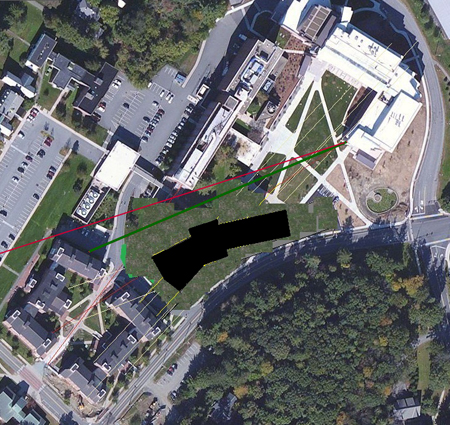 This would seem to rule out a New Maynard Street (not a serious idea):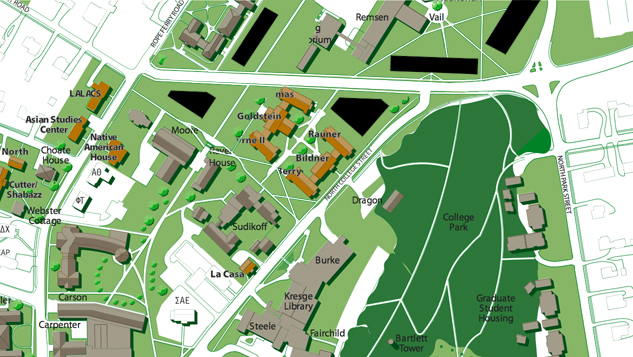 The new building will wall off the medical quad from the street at least as much as Dana does now, and it will finally liberate the quad's southwestern corner. In place of the frustrating and obstructive hyphen that new joins Gilman to Remsen, the new building will erect a broad ramp to give pedestrians free access to the quad and the Life Sciences Center beyond.
In the context of Vail and its older neighbors, the potentially dull, planar surfaces and ominous cantilevering of the new building might be hard to criticize. This is Dana's entrance, for example: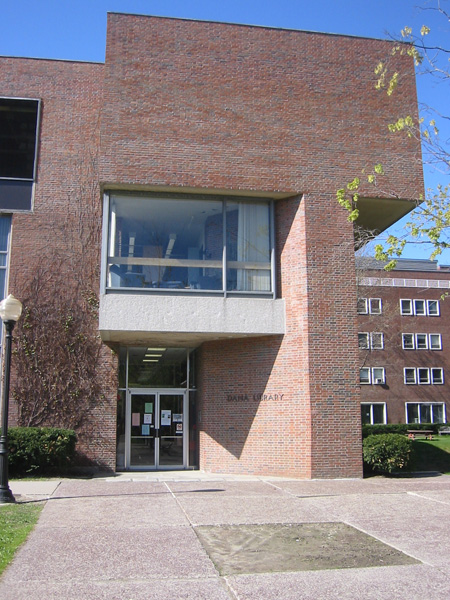 But the obvious difference is that the med school's Modernist buildings, all by SBRA, are built of red brick. While their scale and style set them apart, their material ties them to the campus. The Academic Center, which initially was shown as having one portion clad in brick, appears to be destined to wear a museumlike white material, possibly stone or metal paneling, all the way around.
The building guidelines in the 2002 Campus Master Plan propose that new buildings maintain at least some connection to the old:
There is a predominance of red brick buildings in Flemish bond, vertical, white, multi-paned windows, entry pediments, and pitched copper roofs. While we do not believe it desirable to limit the design of new buildings to a particular style, the use of some of these existing elements can go a long way in linking the new with the old.
Since it seems to be important to use color to set the Academic Center apart, one wonders whether the building could be built of white-painted brick. The oldest buildings of the campus, those of Dartmouth Row, have been painted white for decades, and yet they have been so little imitated that they remain strikingly different.
—–
[Update 11.17.2012: Broken link to Dana image fixed.]